Archive for the 'Sports' Category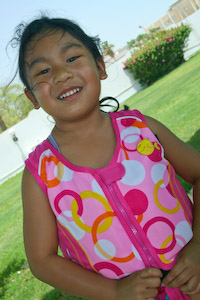 We went to Al Ghazal Club last Saturday as it was a promise to Xiane that we would practice snorkeling. I bought my own snorkel to use when we get home hoping that the rain wouldn't be a killjoy when we go to the Islands of Honda Bay in Palawan. I've been trying to teach her how to snorkel in the tub the other week so she'd enjoy swimming with the fishes.
At first, she was hesitant and scared as anyone would be. So I started with her trying the goggles first and holding her breath underwater. When she was more comfortable with it, I asked her to try the snorkel. Practicing in the tub went well although we've had some issues with water getting inside the snorkel as it was a bit big for her. That got resolved and now the problem was that the tub was just enough for her to snorkel in place. Thus, we had to try it in a pool to see how she'd do. And she did great! She actually didn't even want to get up and spent at least 5 minutes snorkeling every time she went down.
Here are photos of our practice session in Al Ghazal Club yesterday.