Archive for the 'Food' Category
Johnny Rockets at Doha, Qatar
I remember how my husband used to tease me for 3 months about me not treating him and Xianelle yet from my own salary. Well yesterday, the teasing officially stopped since I was finally able to give them a treat. Johnny Rockets, an American burger joint here in Doha, was an easy choice as to where I would be treating them. Easy because we haven't really tried it and he's been wanting to try it for the longest time but it just didn't materialize before yesterday.
Johnny Rockets is located along Salwa Road beside the Nissan Showroom. The place is very much like a 50's diner, neat and cozy. The menu is simple; it's basically all about burgers. Honestly, looking at the menu, one would think that there should me more items to choose from. Anyway, being a burger joint, we normally chose the burgers. My husband got the Double Rockets while I got the St. Louis. His was two layers of burger patties with onions, tomatoes and lettuce; burger at its simplest and the least adulterated form. Mine was smothered in cheese and a few slices of bacon. Then it was time to taste the burger…
Thankfully it wasn't disappointing at all. We both loved our burgers. It was tasty and cooked just right. You know that it was pure beef and you can taste all the juices coming from the burger with every bite. Needless to say, we were satisfied with the food, basically with the burger. The fries and onion rings side dish that we ordered were also good. On the other hand we had to order a breakfast item for our daughter since we thought she'd love the bacon. We were right; we had to order another batch (4 strips) of bacon for her.
The overall Johnny Rockets experience was fine. We enjoyed the good food and nice ambience. Although I still think that there should be more choices on the menu and the staff should be more lively and warm to the customers. I think that we'll be coming back for more burgers in the near future.
We got this comment from one of our readers in Wales.
I thought I wou'd just drop you a line to let you know that your daughter is a bit of a Mini Legend within my team at work.

Basically, we chose to welcome a new member to the team by going for Pizza one day. One of our team mates googled "Happy Pizza" to show his support for the idea, and send the photo of Xiane around to us all.

Ever since, "Happy Pizza" (Complete with raised arms and large smile) has been the team motto… and has since morphed into anything from "Happy coffee break" to "Happy cancelled meeting".

Anyway, I appreciate this is all probably very random to you, but it seemed right to let you know that your daughter is a celebrity between a team of Marketing Assistants in Wales.
Cheerio!
Jen
__________________________________________________________________________

Here is the link to the original post and the photo below.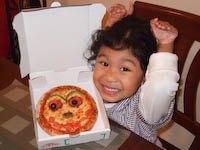 Here with are at Kebab King after watching "Singh is King". Food was good, service was lousy. Still, having dinner with friends is great!