Archive for the 'Filipino Community' Category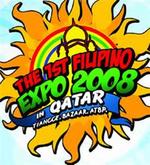 After breaking all records and outwitting its current feathers in its own cap, ABS-CBN Middle East brings to all the kababayans in Qatar two exciting and explosive happenings that will surely bring again the Filipinos in the limelight – FILEXPO 2008 in Qatar: Tiangge, Bazaar, Atbp. and Rakrakan Reload!
Be part of another history as 60 establishments and companies from the Philippines and the Middle East converge to bring the best of the Philippines in one roof for two days! Feast on a wide array of products and services as you visit this one-stop-shop for the Pinoy expat in Qatar! Laugh your hearts out after a tiring day of shopping as Pooh delivers his crazy antics and impersonates your idols, and belt out the singer in you as Yeng Constantino does her renditions of her hits.
Right after the FILEXPO, the festive mood will not yet be over. Make way for the most attended and most successful annual concert series in the Middle East – Rakrakan Reload 2008! Celebrate the glory of Pinoy rock music as The Dawn and Kamikazee unleash the rocker in each and every Juan dela Cruz. This annual rock phenomenon in the Middle East has catapulted the OPM in this part of the globe, so be there and be heard as you rock on and partake in another history in Qatar!
Don't be left behind. Be there when all the things that you've been waiting for since the start of this year unfold and happen! October 9 & 10 for FILEXPO 2008 in Qatar: Tiangge, Bazaar, Atbp., and Rakrakan Reload 2008 on October 11.