Archive for the 'Education' Category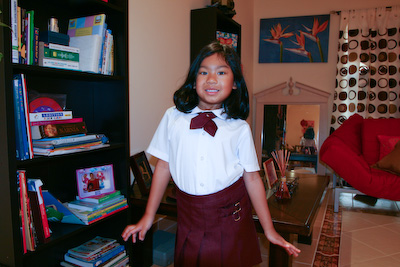 It's only been three days since classes finally opened after a week's delay due to swine flu. On October 4th, Qatar Academy opened its doors to its students. My daughter is of course a new student this school year which makes her anxious and excited at the same time. I guess I was the one feeling more anxious than her. But I was so relieved that everything went well and I was so happy to see that my daughter seems to be enjoying her new environment.
Xianelle's move to the QA was something that we hoped for and something that also entailed a lot of adjustments from us even before the school year started. First, we had to move to a new place, somewhere closer to the school. We decided to move to Al Sadd which is halfway closer to the school and Tian's place of work. It is much closer than our place at the Old Airport Area. Then, I had to resign from work since nobody is going to drive Xianelle to school. Another big reason for my resignation was our plans to have another baby though sadly it hasn't happened yet. However, we do have high hopes that we've made the best decision for our daughter.
It is very early to tell whether we did but judging from the way we see the school, the facilities, the friendly staff, we feel that we're on the right path.
Xianelle is now officially a member of one of the Grade one classes. For the first time she has a male teacher. She has made a few friends and she loves that she has a girl classmate who's also a Filipino though we always stress to her that she can make friends with anyone, no matter where they come from. She always has stories about the things they do in school. Xianelle is very happy that they get to play in the playground during the break. Today she woke up very happy because it is 'library day' and she's so excited to be in their library which by the way is very nice. So far we are very pleased.
The only thing that's driving me nuts it having to drive a lot again. But I guess that's just how it is. We want good things for our family, especially our children then we've got to give something in return. I guess it's ok to be doing this as long as my daughter gets the best education that we can ever provide. After all, most of the things that we do are for our children's future.