Archive for the 'Family & Friends' Category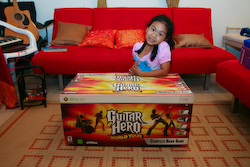 I never thought that I'd be addicted to any console games ever. When I was a little girl we had the Game and Watch and the Nintendo Family Computer later when I was a bit older. But unlike my brother I was never really into it. I would play but just for a little while. I was never good at any of the games anyway.
I liked playing the DS but just the same I only played my favorite games like the Diner Dash and Cake Mania and that's it. But… a big but… since I tried playing Guitar Hero on the Wii, I suddenly became a fan and would desperately want to play every chance I have. Tian and I played together. At times he'd be the lead and I'd be the bass and vice-versa. Naturally, he was the better player but I tried my best to keep up. It was really engaging even if we were just using the WiiMote.
Tian had been contemplating on buying the Guitar Hero World Tour kit but ever the practical person that he is, he ended up not wanting to buy it since it would cost a lot. It would have been really cheap to order it online but then the shipping cost is expensive. But last night, after some egging from me, he decided to buy not just the guitar kit but the Guitar Hero Band Kit complete with guitar, drum set and a mic.
So after coming from a party, we rushed to Technical Care Center at Mirgab and grabbed the Guitar Hero Band Kit for the Xbox. We bought the one for the Xbox360 and not the Wii because it has digital sound whereas the Wii is only stereo. In short, we wanted it to sound more authentic. We drove home as fast as we could. I got Xianelle ready for bed while Tian set up the band, then we played until past midnight. So I guess we'll be spending more time playing because we are so ready to rock!