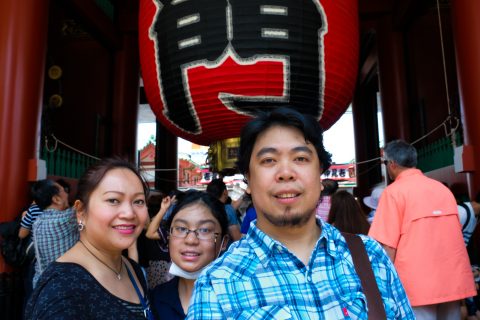 Our third day in Tokyo led us to Asakusa where you'll find the Kaminarimon Gate or Thunder Gate. Behind it is the Nakamise Shopping Street and Sensoji Temple.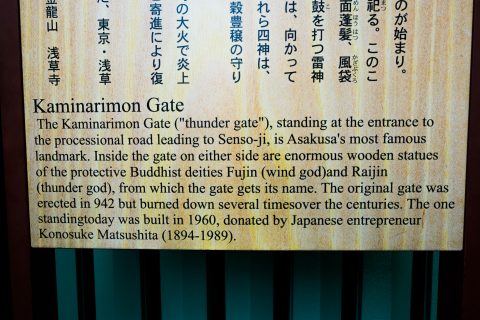 Sensoji temple is the oldest Buddhist temple in Tokyo as it was built on 628. The temple can be reached via the Nakamise, a shopping street that has been providing temple visitors with a variety of traditional, local snacks and tourist souvenirs for centuries.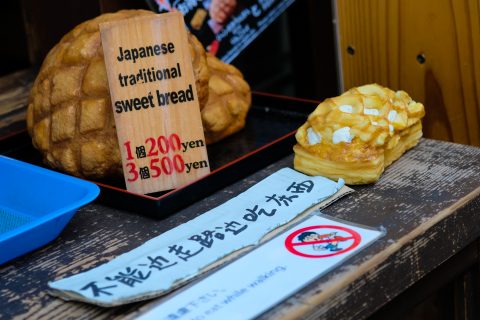 We went to visit a shop that is said to have the best if not the best Melon Pan in Tokyo; Kagetsudo Asakusa.
These freshly baked breads have a sweet thin crust while the inside is soft and fluffy. We got them for 3 pieces for 500 yen or sold at 200 each. You can eat them outside the shop (It is rude to eat while walking in Japan) or settle in the 1950s themed, 5-tabled cramped space inside where you can see the baker magically creates these sought-after breads. It's easy to locate Kagetsudo as people do line up for their breads.
Honestly, the bread is a bit too sweet for my liking but the texture of the crust and softness of the inside is worth noting. You can actually order a bread filled with ice cream as well!
After a quick breakfast, we headed back to Nakamise and looked for more souvenirs and wares being sold in the area. We've been here nearly 7 years ago and actually lost each other while looking at the goods at Nakamise. We again got seperated this morning and as always, our meeting place was at the lantern at the Hazomon Gate, which is the 2nd gate right before the temple.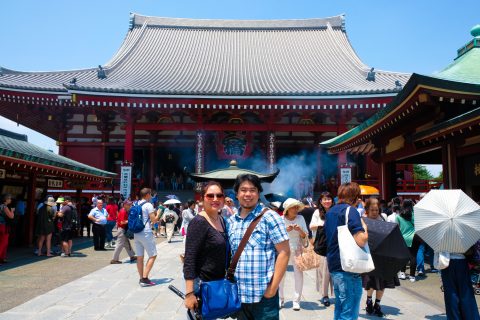 On the right-side,facing the temple, you'll find a line of wooden boxes in which you can make a donation of Y100 so you could get an omikuji (fortunes written on paper). You'll see a metal box which you have to shake to shuffle the sticks inside until one comes sticks out of a small hole on one side. When you get a stick, check the number on it (in kanji) and match it with the number on the box with your fortune in it. Good or bad fortune, you'll have to attach it to a wall of metal wires found just in front of the wooden boxes.