I know by now, family and friends are wondering whatever happened to the San Juan Year End Letter, a tradition that we have started for our family and friends since 2002.  There have been a lot of gatherings and parties to attend to this holiday season and before we knew it, New Year's Eve came without a Year End Letter.  However, as in all traditions, it has to be done no matter what so we're trying our best to cook something up with this little adage "It's better late than never" at the back of our heads.
We received news early January that Xianelle has topped the EXPLORE Exam among all the TAP students in Qatar Academy. With this, she was offered a scholarship to attend the C-Mites (Carnegie Mellon Institute for Talented Elementary and Secondary Students) Summer Program at the Carnegie Mellon University in Pittsburgh, Pennsylvania in July. She was offered the same scholarship last year which we turned down. This time we had decided that we would not pass the opportunity.

In June, while attending Xianelle's "Promotion" ceremony to Grade 6 (Middle School), we were given another surprise when she received the Academic Achievement Award (in her class). This accolade was deemed to be the highest award that any student can receive in his/her entire academic life in Qatar Academy Primary School. We were ecstatic! You can view the awarding at http://youtu.be/3Vz6EoHM_kA
July came and the trip to Pittsburgh went smoothly. Since I decided to stay in Doha while Xianelle and Mavis went to Pittsburgh for the trip, the two had an amazing mother-daughter time for 2 weeks. They explored the streets of Pittsburgh, went to museums and other famous landmarks, sampled every tasty morsel that they could get their hands on (Murray Ave. Grill, Five Guys Burgers, Cioppino, Meats and Potatoes, Primanti Bros., and more) , and shopped till my pockets bled.

They also had some funny and unforgettable experiences to bring home with them; being left by a bus going to the Outlet mall in which they had to wait for another hour before the next bus arrived, Mavis buying shoes thinking that she got a humongous discount by paying only 80QR a pair but then realized she was paying 80 US dollars and not in Qatari riyals so she had to quickly return back the items 10 minutes after buying them, and having the worst service food ever at EatnPark.
24 hours after landing back in Doha, we flew to the Philippines to be with our families whom we miss for the most part of the year. Nothing beats being with family.  We consider it such a blessing to having the opportunity to spend time back home with our loved ones. Vacation in the Philippines, as always, is a mix of food binging, visiting the malls and cinemas, more travelling and just spending time with family.

We went to Coron, Palawan late July as I have always dreamt of going to Coron. It didn't disappoint!  It has got the most spectacular views we've ever seen; clear, blue waters and lagoons, magnificent rock formations, and snorkeling sites for the eyes to feast on.  As always, the mermaid (Xianelle) and the Merman (Me) spent hours just snorkeling in the water, marveling at the different sea creatures below. Mavis was the scaredy-cat in the ocean as ever as she had to make do with snorkeling by the boat. She was even bested by my mom, who at 64, was able to spend quality minutes snorkeling with the help of our boatman!
In August, we decided to give out some school supplies to a class in Sitio Target Elementary School. The school provides classes to Aetas, indigenous people who live in scattered, isolated mountainous parts of Luzon. We brought notebooks, pens, pencils, crayons, rulers and other school items. As it was their first time to see water color palettes, they thought of them as makeup, but Xianelle was happy to show them how to use properly. Hopefully, we could donate more this coming year as we saw how much help is actually needed to run such school. We salute the dedicated teachers who have to trek each day, rain or shine, just to teach these children.

As with last year, we also went to "Munting Tahanan ng Nazareth" in Mabalacat, Pampanga which serves as a home to abandoned, and disabled and special children. We brought some basic supplies as recommended by the caretakers like soap, detergent bars, laundry powder, disinfectants, soap, and shampoo. "Munting Tahanan ng Nazareth" relies solely on donations so these necessities are sure to help their cause.
Mavis and Xianelle got to spend the rest of their Philippine holiday with Mavis' side of the family.  Although this time it was minus her Dad and her sister Mariah who, at that time, had to leave for a short singing stint in Belgium. Although the first few weeks were about enjoying and travelling, it wasn't as rosy as expected as my mother-in-law got seriously sick. Mavis even had to extend their vacation to be with her mom upon her operation. We were glad that God for helped us get through it and with lots of prayers from everyone in the family and our friends, her mom's health has gotten better and will hopefully continue to do so.
We were back in each other's arms by mid-September and easily got back into our daily routines.
Christmas holiday was spent with friends, attending gatherings, parties and hosting them as well. One of the busiest ones we've had so far but can't complain of the company of friends. We only wish that we could have spent it with our families back home as well.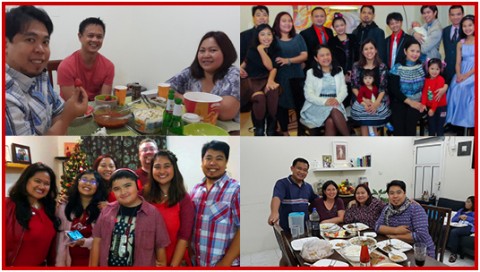 Year 2014 has still been a wonderful year for us and our families even with the bumps that came our way.  We're hoping that the year ahead will be a prosperous and a truly be a meaningful one, not just for us but also for all of those who are close to us. And may we all be able to surpass all the trials and stumbling blocks that come our way with hope and faith. We pray and hope that the New Year will continue to bring hope and God's wondrous blessings for us all. Till our next meeting!
Much love,
The San Juan's of Doha
Tian, Mavis and Xianelle