Our yearly July vacation to the Philippines is just months away so I decided to look into air ticket prices. When we first came to Doha years ago, our main airline was Qatar Airways but has been using Etihad for the past 3 years due to the fact that even though it meant we had to go to Abu Dhabi for a quick layover, we also saved some money in the process. If I wasn't being given airfare allowance by my company and was just given plane tickets to use Qatar Airways, then I would have been fine as I had no choice in the matter. Since I'm given airfare allowance, I decided to save a little in the process.
Qatar Airways do offer direct flights to the Philippines but don't come cheap. They have daily flights to Manila and now even have flights to Clark Airport which is nearer to my home. From Manila, we used to spend another 3-4 hours travelling to Angeles, Pampanga due to the traffic. Landing at Clark Airport means we're literally 15 minutes from home. Aside from Qatar Airways, Emirates has also opened flights to Clark from Dubai. This somehow eliminated Etihad from our sights as a closer airport would be better even if it means spending a little bit more.
I visited both their sites to compare the difference in airfare between Qatar Airways and Emirates for the same days in July and the results were quite surprising. I wasn't surprised that Qatar Airways proved to be more expensive than Emirates but was surprised at how huge the margin is!
Let's do the math! For a single adult, Qatar Airways charges 3,850QR while Emirates charges 2,810QR. The price difference is a whopping 1,040QR or roughly 12,760 Pesos.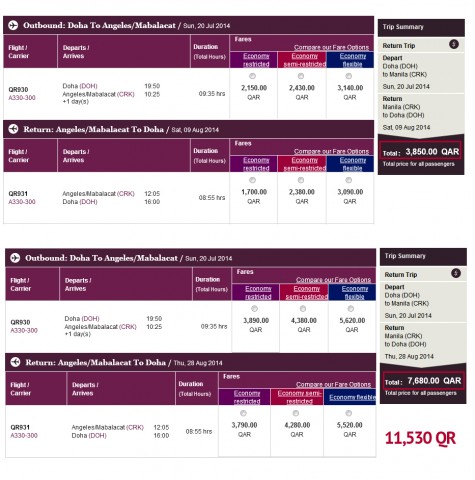 Since we would basically travel together, that's 2 adults and 1 child. For the whole return trip, I would have to pay Qatar Airways 11,530QR while the same flight dates would cost 7,970QR with Emirates. The difference is 3,560QR or 43,678Pesos (285.59 USD). Wow. Just Wow.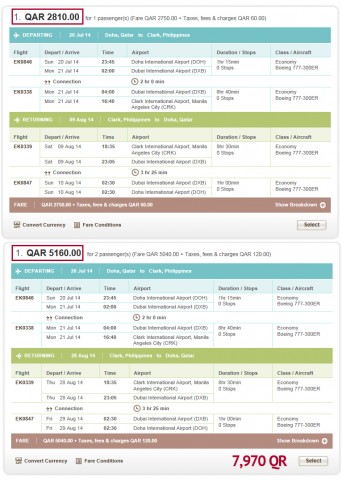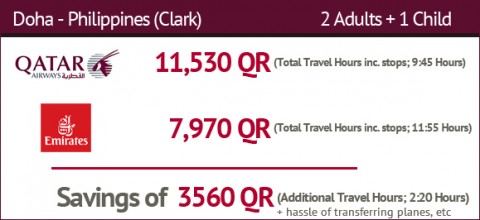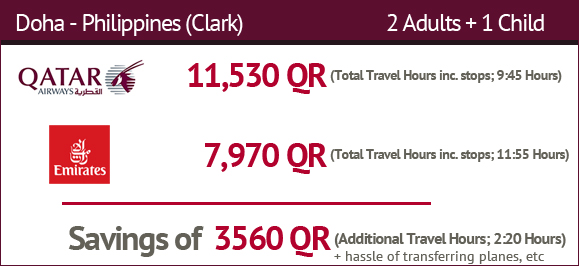 Of course, one also has to consider several aspects in the picture. For one, Qatar Airways provide a 9:35 hour direct flight to Clark, Philippines. Emirates takes you longer as you have a quick layover in Abu Dhabi and the total travel time would be 11:55 hours. That is a mere 2 hours and 20 minutes more. Also, flight times vary although departing and arriving on the same date. You leave Doha a bit earlier and arrive at Clark at 10 AM the following day with Qatar Airways while you are on a red eye flight from Doha to Abu Dhabi and you arrive 4:40 PM in the Philippines instead of morning.
Still, I do feel that one is really paying a premium price for Qatar Airways flights. If the flights are probably 300QR more expensive than competition, I wouldn't bother paying the extra. But for a difference of 3,560QR, that is something else. What gives?
In our case, the layover isn't really much of a bother as we've been used to travelling with Etihad and with the close proximity of the Clark Airport to our home, a 6 hour difference in arrival isn't much so I don't see why I would spend an extra 3560QR using Qatar Airways.