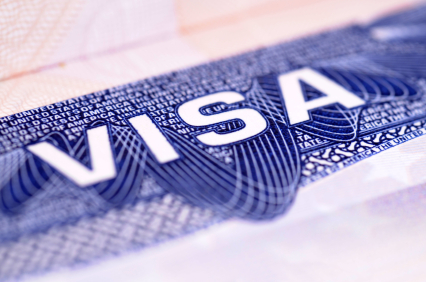 Since my daughter was granted a full summer program scholarship in July by Qatar Academy, we had to get visas to the US.  I'm writing this article for those who would like to apply for Non-Immigrant US Visa in Qatar based on my experience. This mainly discusses getting a tourist visa and not more than that. For those reading, you will get more answers by visiting the US Embassy site at http://qatar.usembassy.gov/visas.html which will give you details of requirements and other types of visas you may apply for.
Misconceptions and Advice:
You DON'T have to have a confirmed booking with a hotel or a booked flight to apply for a visa unlike getting a Japanese or Schengen visa. Have at least a general idea when you are going, where you are going and what will you be doing. Do your research in where you would be going, what would you be seeing, how much you would be spending including flights etc. This is important when being interviewed as they would see what your plans actually are. In applying for a Japanese Visa, you actually have to write down a day by day general itinerary when applying. You don't have to do it while applying for a US Visa in Qatar.
The interviewer can deny you your visa for any reason he deems so be truthful. I know of some people, Qataris specifically, who took them months before their passports/visas were released. They were not denied but due to some administrative processing, it took them at least 2 months before they got their passports back. In our case, after the interview, we were told to come back the next afternoon to get our passports/visas. Luckily, we were given 10-year multiple visas.
Be honest. Have a good purpose for visiting the US. Have a strong reason to return to Qatar as proven by your Employment Letter and bank statement or family ties in Qatar.
Basic Steps on Applying for a US Visa in Qatar (Non-immigrant)
Complete the

DS-160 Form

online. Print the confirmation page with the barcode.

Create an account on the

Visa Application site

, and print the payment forms.

Pay the fees in any Commercial Bank, making sure you get a payment Receipt number.

After at least 1 business day, go back to the

Visa Application site

so you can place the Payment Receipt number and schedule your interview.

Bring all pertinent documents to the interview.
Personal notes:
Filling up the DS-160 Form
If you are applying for your family as well, you can opt to use the option of filling up another DS-160 form after you complete yours. In this case, most of the information you have on your form gets retained on the new DS-160 so you don't have to type as much.
Remember that the filling up the DS-160 is not the same as applying for the Visa itself. When I first submitted the DS-160, I went back at my printed copy to see that I made a mistake on my wife's birth year. I called the visa office and was told to just create a new DS-160. For each DS-160 you create, a new confirmation with barcode is given to you. This is what you will use to apply for your visa at http://www.ustraveldocs.com/qa/index.html?firstTime=No
You will need to fill a DS-160 form for every member of your family including your children.
If you've been working for a company for 5 years, you need not place your other work history.
 As a tourist, you should choose B2 (Medical/Tourism) as the type of Visa to apply for. B1 (Business) is for business purposes.
For the part where it asks you to write where you would be staying, there is no need for any confirmed hotel booking or flights. Just place in where you think you would be staying and that's it. You might write down a specific hotel that is near the area that you might want to stay at but again, no confirmed booking necessary.
You need to print out the DS-160 confirmation page with a barcode number as this is important.

 
Applying for the US Visa/Visa Fees (Machine Readable Visa – MRV)
The fee for the tourist Visa is 584QR or $160. This is non-refundable and should be paid by every member of your family who is applying, even for minors/children.  You also cannot transfer it to another person. You will receive a receipt after paying the application fee.
This receipt is valid for one year from the date of payment and allows you to schedule your interview at the U.S. Embassy. You must schedule your interview while the receipt is valid, which means your interview must be booked within one year of paying your fee. If you do not schedule an interview within a year of payment then your receipt will expire, you will not be able to schedule an interview, and you must pay the fee again and begin the process anew.
You create your profile here: http://www.ustraveldocs.com/qa/index.html?firstTime=No  .
Once you add the DS-160 codes you have for each applicant, print each MRV to take to any Commercial Bank with you to pay the fees. Here is a list of Commercial Bank Branches (http://www.cbq.qa/EN/Network/Branches/Pages/Branches.aspx?showAll=1 )
Remember to bring the MRV Form as well as each applicant's passport when paying. Make sure that the receipt you get from the bank contains the same information on your MRV. You will need the ref. transaction number from that receipt.
After paying, it might take 1 business day for the payment to appear on the "US Visa Application" site (http://www.ustraveldocs.com/qa/index.html?firstTime=No). Be patient.
Once your payment is confirmed, select your schedule for your interview online.
Interview for US Visa in Qatar
We chose the 7:30 A.M. schedule and were at the office before 7. You can line up before they let people in to get in first or at least earlier than most. Even if your schedule says 7:30 AM, it will probably be another 30 minutes before you even get inside the building as there are some security checks (I remember 3) implemented.
What to wear on the interview? Anything decent and presentable. You don't have to wear a suit or tie or be too formal, a collared shirt would suffice. Since I was going to work after the interview, I was wearing a long sleeved shirt and black pants. However, I don't think it'll make an impact to the interviewer if I was wearing jeans and any collared shirt.
What to bring to the interview not really mentioned on the website:

Letter of employment with your salary from your company. This is also applicable for your spouse if working.
At least 3 months bank statement. I actually had 6 months. This was printed, stamped, and signed by my bank.
Company Pay Slips if any, at least 3 months.
Printed copies of the photos I submitted on the DS-160 Form.
I have all our birth certificates (not stamped by our embassy) and marriage certificate.
Previous Passports if any.
In our case, I printed out small information from a website about the Summer Program that my daughter was attending, nothing really official. If I was applying as a tourist who would want to go to Disney Orlando, I wouldn't have printed out anything as this is a common tourist place. Ours was more specific so I had to give them something about our reason for going to the US

What

NOT

to bring to the interview:

A copy of the filled up DS-160. You only need the DS-160 Confirmation page with barcode but not the filled-up DS-160 form.

Any accessories you may have to make it easier for you to go through security including watches, bracelets, rings, sunglasses, and phones. Leave them in the car. The only thing I had in my pocket was my car key and eventually had to leave them at one security point.

Most of the questions are the same as the ones you wrote on the DS-160 form.