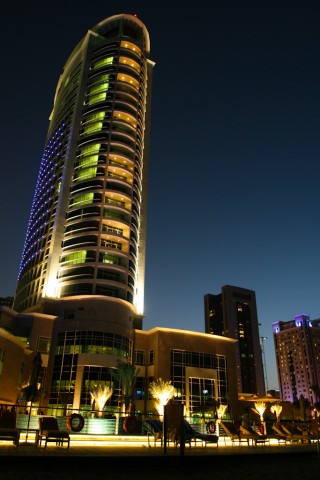 We love everything about Hilton Doha!
I booked online through http://www.hilton.com and was able to contact VENILLA MARIMOOTOO, Executive Secretary & PA to GM, and asked if it is possible to get an early check-in as online booking states that check-in is at 3 PM. Some emails after, I got confirmation for a morning check-in. Great communication and no hassles for such request if available. I was assured that we would be taken care of especially that we were HHonors Gold Elite members and we were not disappointed.
Being a HHonors Gold Elite, we were upgraded to the One Bedroom Suite overlooking the ocean and the pool. It has its own balcony with panoramic sea view. Big, big space with simple modern furnishings. A Nespresso machine is available to use, a TV in the receiving room and bedroom, and you're provided a separate area with a work desk. My daughter was looking for some cartoon channels but sadly didn't have access to any but you have your usual dose of news channels (english and Arabic) and other foreign channels. We were also given a welcome fruit plate, some nuts and a birthday cake for my daughter. Xianelle loved the Chess set and we spent hours playing with chess while lounging in the receiving area. I'm not sure how the Presidential 2 bedroom Suite differs from the King one bedroom suite aside from the number of available rooms and the space but for a family of 3, the King One Bedroom suite would more than satisfy your need for relaxation and space.
The Bedroom was great as you also get to have a panoramic view of the gulf and areas of the City. You have a full walk-in closet leading to the bathroom with separate stalls for a shower and toilet plus a lovely tub. Bath amenities are from Peter Thomas Roth. Can't get enough of the Bath Gel! You have the option of a bidet and a shattaf (hand held bidet).
You actually have 2 Rain shower heads available to you, a stationery ceiling rain head and a handheld rain shower head. The only thing they can probably add is to provide sea salt available for the tub.
A big plus for Hilton is a usable, "swimmable" beach which is quite rare in Doha. Pool is also nice and gets a shade from the hotel in the afternoon which is good for those who don't want to get burned by the heat of the sun. The kids' pool has a shaded area so kids can swim even in the mornings.
Service was outstanding. Really felt welcomed by staff and they were always ready to help. The moment you go to the reception, you are offered lime juice to quench your thirst and even when just staying at the magnificient lobby, the concierge comes up to you to offer you the same. Fast response from housekeeping for needed American plug converter.  Valet service was quick and when we decided not to bring our car, a Karwa taxi was hailed by the concierge for us. A service car is also available for 50QR.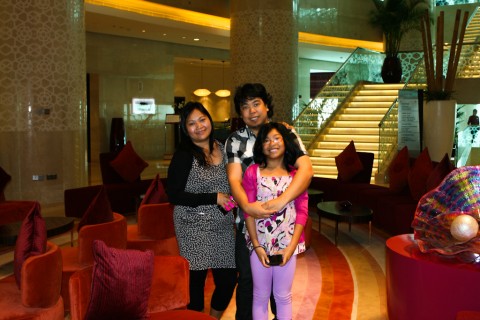 Breakfast at the executive lounge is good and filling. They serve breakfast from 6:30 to 10:30 AM, afternoon tea from 3 to 6 PM, and evening drinks and snacks from 6 to 8 PM. They had a number of alcoholic drinks available from 6 to 8 PM but as someone whose body can not tolerate alcohol that much, I didn't even bother to try. They might need to add more staff as the one assigned can get overwhelmed at peak times. You have your typical beef bacon, foul medame, cheeses and breads, etc.
Breakfast at Mawasem was good and has enough variety from cheeses, salads, fruits, breads, etc. You have an assortment of american, indian and asian cuisine which from your typical breakfast.  Xianelle loved their waffles which she topped with whipped cream and chocolate.
Free WiFi anywhere! Go to the beach, the lobby, and update Foursquare or your Facebook and twitter. You're always connected. I tested the in-room wifi and got an average download speed of 400mb and upload speed of 300mb.
We've been to Trader Vic's in Ritz-Carlton Bahrain many times and would have wanted to try the one in Hilton Doha.  We tried to book seats for Trader Vic's but sadly you had to reserve 2 weeks ahead due to the overwhelming demand for seats. Trader Vic's serves signature Asian-Polynesian fusion dishes while you enjoy the vibrant three-piece live Cuban band. You can not fault Hilton for this as it only means that Trader Vics is really doing well. Although Hilton guests should be able to get seats as requested.
Xianelle was not able to try the Kidz Paradize where kids can be left securely by parents so that the kids can enjoy doing activities in the hotel. Hopefully, we'll have time next time we come. They also have the eforea spa at hilton and fitness by precor for guests.
What makes Hilton stand out from the other hotels in Doha? Hilton Doha is new, clean, fresh and looks terrific. You can not ask for better service and we felt well taken care of by the staff. It is centrally located at the business center, close to the City Center Mall, and Corniche.  The Pool and Beach are great too!
note: Send me a PM if you want to get in touch with Ms. Venilla Marimootoo.