With VIP passes hanging around our necks, Mavis and I visited the VIP preview of 2012 Qatar Motor Show which opened to Media and VIP Guests yesterday, January 23. We didn't bother to go yesterday as a lot of the cars would only be unveiled late at night and this afternoon. From experience in attending shows like this, it is better to arrive on the 2nd day as the exhibitors are more prepared. The actual public display would be tomorrow, January 25 but since we have VIP passes from Qatar Motor Show organizers, Mavis and I were able view the exhibit ahead of the public.
As a whole, Mavis and I were amazed at the number and type of cars made available by organizers and exhibitors. Some of the highlights would be the Porsche Panamera 4S Exclusive Middle East Edition, special 'Arabia' edition of Bentley's Continental Flying Spur Speed ( 50 units of the model will be made, each selling for 894,000 Qatar Riyals), the Hybrid Toureg, Volswagen Hybrid Concept Car XL1, Vittoria concept car by Up Design, Lamborghini Gallardo, Maserati Gran Cabrio Sport, Lamborghini Aventador  and so much more. Car lovers and non-car enthusiasts are sure to enjoy the exhibit.
Some of the more interesting and interactive sections of the exhibit includes the F1 Simulation from Williams and the Shell Professional Simulator in which you can ride their cars in a simulated environment. I tried the Shell Simulator and it was a blast speeding at more than 250kmph! Wish I would have driven longer but since I wasn't too aware of the track, I got confused upon arriving on a curve and hit a wall.  All in all, we spent at least 2 hours roaming the exhibit!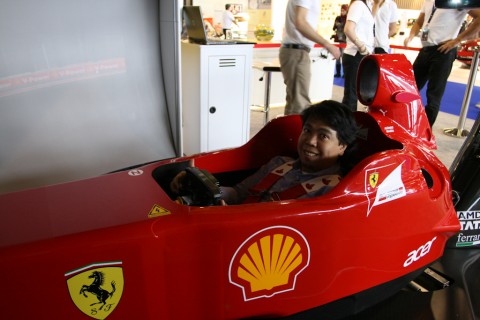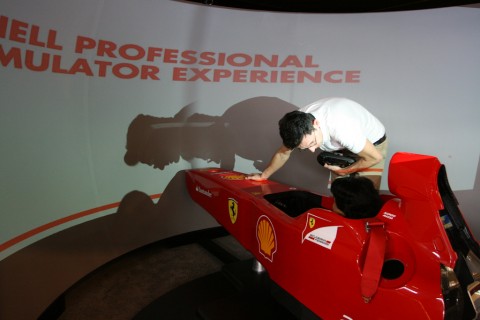 I am so looking forward to our real drifting experience on Friday from world-renowned professional drivers, including the Lebanese Red Bull athlete Abdo Feghali, the rally and Middle East Hill Climb champion, and the new Red Bull 2011 Car Park Drift King, Saeed Al Mouri, of Saudi Arabia.
Great job by the organizers and I'm sure the 2012 Qatar Motor Show is going to be a success. Head to Doha Exhibition Center to experience it!