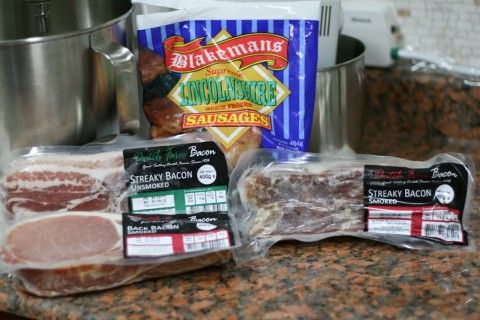 We visited Qatar Distribution Company (QDC) this morning to see for ourselves what's been keeping some people happy these past few weeks. Although the news of Pork products, namely Pork Bacon and Pork Sausages, in Qatar has been out the since middle of November, we weren't really too excited.
We've lived in Saudi for years and have grown not to look for pork as it is also banned in Saudi. We would opt not to buy when friends would ask us if we want to buy a kilo of pork for 80 Rials. What? 80 Rials for a kilo of pork? Yup, that was the ongoing rate then. Usually, these come from Bahrain where pork is allowed to be sold in some licensed restaurants and groceries. When we moved to Bahrain, one would expect that we'd be cooking pork every week but for the 3-4 months we were there, we only had it twice or thrice.
There were so many people at Qatar Distribution Company (QDC) that we had to park outside. People were probably buying stocks for Christmas or probably because it's going to be a holiday tomorrow for Qatar National Day.  You'd hear clanking of bottles once you get inside as it was filled with expats buying all sort of wines and spirits. Near the cashiers, you'll find a small area for the pork products which used to house beer that was being chilled. I was thinking of taking photos inside but stopped myself as this might land me in trouble. In any case, the main items being sold were Bacon and Sausages. The promised Italian range of Salami, Parma Ham etc, expected at the end of December, were still not available as well as frozen items like chops, joints and belly pork.
All that was offered was smoked & unsmoked back & streaky bacon and 3 types of pork sausage (plain, Lincolnshire & Cumberland). All products were 28 Qatari Rials each.
The Lincolnshire Pork Sausages tasted good except that the texture was too soft and mushy.
The Pork Smoked Bacon was good and Xiane loved them.