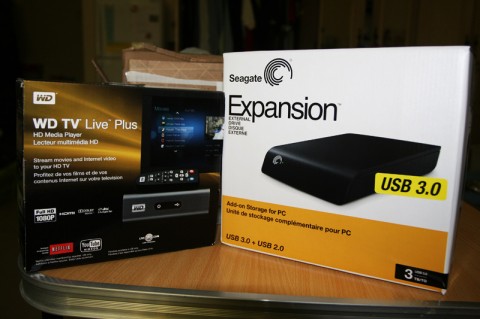 Look at what landed on our Aramex Box! The WD TV Live Plus and a 3TB Seagate Expansion External Drive. A perfect combination to watch all your downloaded movies and shows. AVI, DIVX, XVID, WMV, DVD-ISO, MP4 and even MKV gooodness! But we still have to see if it really works.
The problem encountered by those who have bought these Media players along with a 3TB external drive is that the player doesn't seem to recognize the 3TB. I won't go into the technical details. Anyway, Western Digital supposedly has updated the firmware of the WD TV Live Plus to use hard drive more than 3TB in capacity. It was included in their Version 1.05.04_B Firmware Update and states that it resolved this issue and now "Supports USB hard drives greater than 2TBs." See Firmware release notes here.
I still haven't opened the boxes yet and will update if it really works. Crossing my fingers. Otherwise, I have to use my 500GB with the WD TV Live Plus and use the 3TB for backup purposes.
UPDATE: Does the Seagate 3 TB External Drive does work with the WDTV Live Plus? Yup, it does! No hiccups at all!