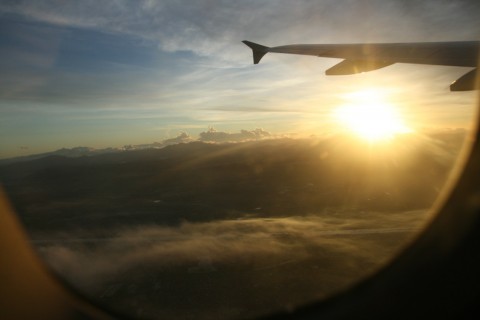 Our Bohol trip started in the wee hours of the morning on July 3. Our flight which leaves from Manila to Tagbilaran (Bohol) was scheduled at 6:30 AM. That meant leaving Angeles at 2 AM, travel 1 1/2 hour to Manila and at the airport at 4. We didn't want to be late checking in as if the flight has been overbooked, we might get bumped off. By 6:30 AM, our feet were already several thousand feet above land! The new addition to the family, 11-month Zoie, had our numbers to 7 adults 2 kids and an infant.
It was quite interesting to see the rows and rows of hills which dotted the island while still on the plane. These hills are about to be 1,776 that spread over 50 sq. km. are more well known as the Chocolate Hills as they turn brown during dry season. Humongous Chocolate Kisses!
Upon landing, we were met by our Tour guide/driver to take us to the most visited areas in Bohol.
Sanduguan Site/Monument
This is a monument to commemorate the "sanduguan" (blood Compact) of the native king Datu Sikatuna and the Spanish conquistador Miguel López de Legaspi as a sign of friendship between the two people. This was in 1565.
Baclayon Church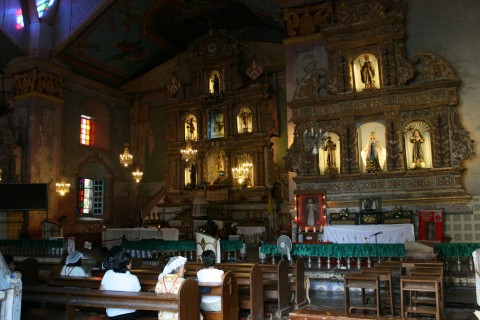 The Oldest Coral Stone Church in the region was built on 1727. It is considered as the foremost among the best-preserved Jesuit-built churches in the Philippines and one of the oldest in Asia.
Prony  the Python
I'm not sure how long "Prony" is but he his huge.  Captured on Oct. 21, 196, from being 5 ft. long, he now measures at more than 25 ft. and weighing more than 200 kilos. Since we were the first to arrive, we were able to go inside his cage and touch him. The owners of the place take care of other animals as well.
Tarsiers
One of the more controversial places to visit would be the Tarsiers.  We didn't visit the Tarsier Sanctuary in Corella, Bohol but in one of those located beside the highway where a small area is dedicated to tarsiers.
These big-eyed insectivorous primates are nocturnal in nature. However, it is said that contact with Human Beings (petting them, loud noise and use of flash in cameras) often leads them to death. Tourists are to be wary of the above when visiting  these places. Please, please, don't touch nor disturb the animals. I was using a 70-200mm lens on my camera thus there was no need for me go up-close. I didn't even have Xiane pose with one as I didn't want to disturb them in any way. It was good to know that the owners of these places have already stopped placing the animals on tourists for a photo opportunity. And if you are offered, please walk away.
Chocolate Hills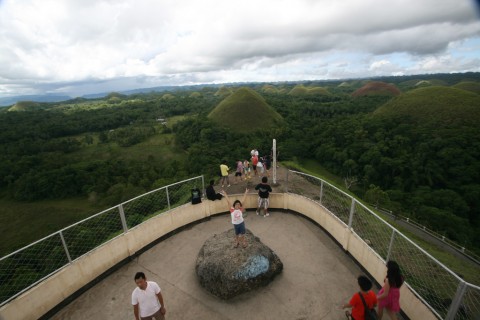 50 minutes from Tagbilaran City, the Chocolate Hills complex gives you a great view of the hills. The Chocolate Hills Complex has a restaurant, hostel with swimming pool and an observation deck where one could view and even count the hills at the view deck 210 feet (64 m) above the ground. There are a total of 214 steps leading to the observation or view deck. Here one can view the landscape that is covered with more than a thousand Chocolate Hills.
It took us at least 10 minutes to get up those steps as halfway through, we decided to rest are aching feet and use the opportunity to get some photos. There were several decks in between the base and the top view deck . More photos followed while we got to the view deck. Going down, an easier  walk way is available but takes more time to get down. Those who don't want to use the stairs could also use the walkway which gives you more time to admire the view.
The Chocolate Hills complex has a restaurant and would be one of your best stops to take that needed restroom break.
Bohol Man-Made forest
The Bohol Forest is a man-made mahogany forest stretching in a two-kilometer stretch of densely planted Mahogany trees located in the border of Loboc and Bilar towns. This is very, very nice. Passing through the stretch, one gets awed at the sight of the mahogany trees lining up the road. Watch out for passing cars if you decide to get photos!
Bohol Hanging Bridge
To cross the bridge, one has to pay 10 Pesos. It is basically a bamboo hanging bridge to connect 2 areas separated by the Loboc River. On the other side, one can buy souvenirs and food stuff but the main thrill of stop is crossing the long bamboo bridge itself.
Loboc River Cruise (Lunch buffet)
This might be a disappointing stop as the food served on these boats fail in comparison to any home-made cooked food. I'd rather spend my 300 Pesos somewhere else. However, I'm not sure if I can just pay the 100 Peso entrance fee and use a boat. So that's 400 Pesos per head! You get bland and dried food, good entertainment (a guitarist sings songs while you are eating plus you get to be entertained by local communities while on the boat).
Would I recommend it? If you are after the experience, I'd give it a go. But if the food is you're after, go somewhere else.