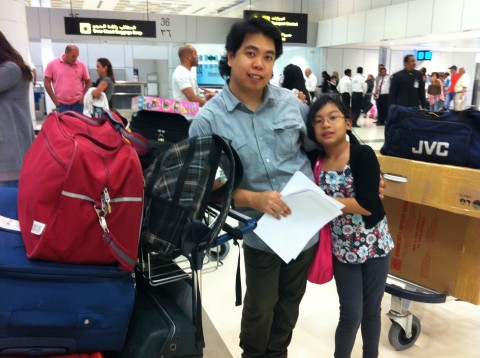 It's the start of our vacation and everything starts wit5h the flight back home. As I've blogged a couple of weeks back, we're taking Etihad this time. We agreed that we'd sleep in the afternoon of yesterday so we'd have enough rest for our red-eye flight at 4:30 AM (Doha Time). Xiane and I were able to take a nap in the afternoon but we both woke up at about 6 pm, much earlier than what we had targeted for, which was about 10-11. Mavis, on the other hand, wasn't able to sleep with us as she was still finalizing some stuff needed to be done before we leave so by the time we were awake, it was Mavis' turn to get sleepy and eventually take a nap. Eventually, we all synced at 12 midnight, felt sleepy and took another nap that lasted an hour.
Being a member of Triple A (AAA), a drop-off/pickup service to/from the airport was available instead of calling Karwa. The driver was already in front of our building at 1:30, 15 minutes ahead of our agreed pick-up time. I'm not sure how you guys travel when going home but in our case, we don't travel light. We have 6 check-in bags, 2 hand-carries, a laptop bag and a camera bag. The checked-in bags we're 120kgs! And to think we already shipped 2 boxes home! The Toyota Innova was full.
Check-in wasn't that difficult but the system has a glitch so we spent more time than usual checking-in though I did a web check-in hours before.
By the way, Etihad gives you an allowed 40kg baggage allowance to the Philippines and are quite strict in its implementation. We saw some people scrambling to get their baggage meet that allowance. Also, since the trip to Abu Dhabi has lots of transit passengers, you have to check with the airlines regarding their baggage allowance policy. Another lady, who's transiting to Abu Dhabi and flying off to Jordan, had a misunderstanding that she was allowed 32kg instead of 23kg. Standard allowance dictates 23kg but if you're planning to exceed that (and eventually pay for excess),the maximum weight of allowed baggage is up to 32kg. If you're a member of the airlines Frequent Flier, you allowed extra baggage depending on your tier. In our case, we were allowed 15kg each extra.
Since we are Etihad Guest Gold fliers, we were also given a coupon so we can enter the Oryx Lounge at the Doha Airport which we did after spending some time buying some chocolates at the Duty Free.
The flight to Abu Dhabi was at 4:20 AM and we barely made it to the boarding area with the last pack to take the bus to the plane. We got upgraded to Business class! Yey! I was offered a snack but since having eaten some  at the Oryx Lounge, declined the offer.
The flight to Abu Dhabi was 45 minutes. We were just disappointed that, like Doha, you have to board a bus to take you to the main hub itself. Otherwise, it is much better than Doha's current airport.
We hurried off to the Pearl Business Lounge which is near the Gate 2-22 gates. We've been to Qatar Airways  lounge for Silver and Gold  (not Oryx) card holders and in comparison, well, you can't compare. You had better  food choices, the area is better…
Have to go as the Pearl Lounge offers a 15 minute Spa treatment and it's my turn!