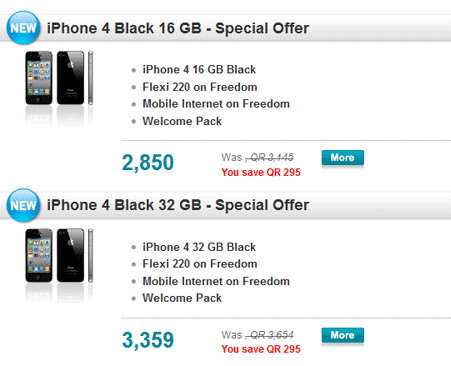 It's been months since people in Qatar have been clamoring for the iPhone 4 to come to Qatar shores and last night, Vodafone has "officially" brought it here. The iPhone 4 is actually being sold in different shops and stores in Qatar albeit for a steep price. the 16 GB was being sold for 4000QR and the 32 GB for almost twice it's actual price if bought in Europe, Canada or Asia where it is being sold unlocked.
I'm quite interested with the prices the Vodafone Qatar is set to sell the iPhone 4 as last year, when they launched the 3GS, their tag line was "run (to their stores) and don't walk". With the prices that they were selling it for, people were not running to their stores yet walking away from them. This time, I think they made a right move and placing their prices more competitive than those bought online, or through other channels. Here is their offer for the iPhone 4.
iPhone 4 Black 16 GB – Special Offer
* iPhone 4 16 GB Black
* Flexi 220 on Freedom
* Mobile Internet on Freedom
* Welcome Pack
QR 2,850
iPhone 4 Black 32 GB – Special Offer
*  iPhone 4 32 GB Black
* Flexi 220 on Freedom
* Mobile Internet on Freedom
* Welcome Pack
QR 3,359
As you can see, their bundle offer is very good. Buying the iPhone 4 without a contract in Europe would almost cost the same plus you have to pay shipping and no warranty support. Buying in Canada would be about QR3950 plus shipping. For those people wanting prices the same as the US where you pay around $99 to $299, you have to remember that those are being offered with a number of years contract, meaning you have to pay a monthly fee for some years. Plus it is locked only to that carrier. You won't be able to use it in your country of anywhere else.
So, good work Vodafone for bringing the iPhone here. And for those wanting to get one, with enough budget for it, I suggest that you do run to their stores before the iPhone 4 runs out. Or you can order online here: