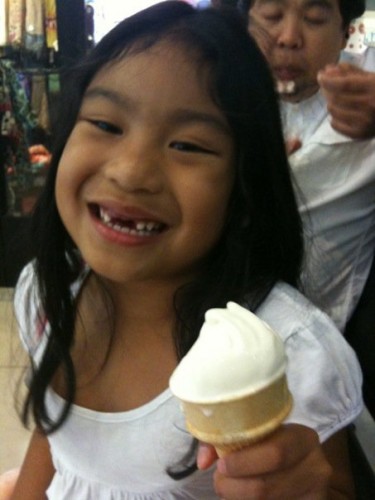 We've been trying to pull Xiane's wiggly front teeth since Sunday but never really had the guts to. They've been "overstaying" and unless they get removed, the new teeth won't be able to come out. Xianelle has also been having a difficult time eating because her gums bleed and she can't bite properly. So we decided that it's time to go see the dentist.
We went to Future Dental Clinic as they told us that they can accommodate Xiane. Though we have AXA insurance, we have to pay cash and have it reimbursed later. The thing that got to me was that we already know what we were there for; to have Xiane's teeth extracted. Yet we're still charged a 150QR consultation fee for the Dentist. When we got to see the dentist, he asked us why we were there and told him the Xiane needs to have her front teeth extracted. He looked and the teeth and nodded in agreement. That's what I paid the 150QR for! He then proceeded to extract the teeth. 120QR for each! Wow, If  I didn't have insurance, I'd be pulling my hair out because of the ridiculous prices!
Dr. Nebu was actually good. Xiane didn't feel any pain when he injected her gums and was even comparing the last time she had her teeth extracted. Afterwards, we went to buy her a sundae and went home. As other friends had said, she's now into the "All I want for Christmas is my two front teeth" stage. She's enjoying it though and doesn't mind the missing teeth.