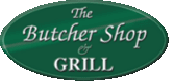 Mavis and I were in Villagio and were wondering where to eat as I wanted to stay away from Fridays and McDonalds so we decided to try out The Butcher Shop & Grill also located at the food court. We are steak lovers and appreciate good quality, tender, juicy steak. Over the past years, I've enlightened Mavis into having her steak done medium rare as the flavor of the meat is more intact and retains its juiciness. So it was just right to try out The Butcher Shop & Grill as we expect good quality steak for the prices on their menu.
After ordering Prime Ribs for Mavis and Sirloin for me, we were given some bread, balsamic vinegar in olive oil and butter to start with. We were quite excited as paying 136QR for a steak and 88QR for the Prime Rib should be worth every halala, shouldn't it? The food came after about 15 minutes and was looking great. But that was it.
I'm not sure if African steak should be that tough but both ours were as tough as any cheap steak. For a sirloin, my fork couldn't even poke through the beef while Mavis' was just as tough and too fatty. It seemed to us that the steak were not properly cooled off to room temperature when cooked and that the steak itself was low quality meat. I called in their attendant to tell him about the steak but he gave a silly excuse of the cows being rained on which made the beef tougher than usual. And that's that. I wasn't in the mood to take it further as I already surrendered after my hands got tired trying to cut the steak and almost choking on pieces of the steak I would put in my mouth. WORST STEAK EVER! I kid you not!
In th end, Mavis and I had to contend ourselves into saying that at least we've tried eating at The Butcher Shop & Grill in Villagio and can comment on the food. Don't ever try their steak! They have burgers too but since our first try to eat their "supposed to be" specialty, I don't think I'd go there again to try their burgers. If their steaks are of no good, how would you expect their burgers to be? By the way, the Baked Potato served with the Prime Rib was actually boiled then baked so it was bland as it can be.
NOT RECOMMENDED!