Arriving in Hong Kong
We arrived safely in Hong Kong yesterday afternoon at around 2:30. The flight from Doha was delayed but the pilot made up for it and got us to Hong Kong at the expected time. There was a long line at the immigration which seemed to take sooo long. By the time we got to the carousel for our luggages, ours were the only ones left. There was a money exchange counter at the airport so we decided to have some dollars changed so we'll have some HK money on us. The exchange rate was a lowly 7.2 per US dollar. Anyway, we got to our hotel at around 5. It is summer in Hong Kong but summer in Hong Kong also carries with it rain showers at times. It was drizzling when we got here.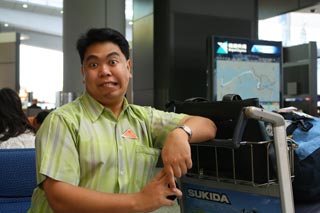 Waiting for the Hotelink Service taking us to our hotel
It felt nice to be back in Hong Kong. Having been to Hong Kong before, Mavis and I knew that it's one of the places that one would never really get lost. First, they have a very good transportation system. You can either choose a bus, taxi, tram, ferry, and the underground train (MTR). The Hong Kong Tourist Association provides you with so much information in terms of booklets and other documentation. They are readily available once you step out of the plane for no charge at all. Mavis got a bunch just right after we got our baggages then just discarded the ones we don't really need after sorting them. On the MTR, maps are provided for touristy places with clear indications where you are and where you should be going. Shopping areas are close to each other so you can walk in Kowloon and Hongkong without really thinking what street you are on. At the end of the day, you can probably ask anyone where the nearest MTR is so you could get back to your hotel or take a taxi. By the way, the flag down rate of a taxi is 15HKG.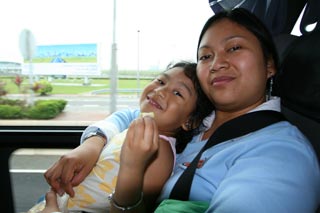 Riding the Hotelink Bus service to Kowloon

Mavis was also able to meet with her friend Liezel who was a batchmate of hers in UP Baguio. We met at about 6:30 PM and she took us to Yoshinoya where you can order korean-japanese fast food. After some walking around the Kowloon area, we got back to the hotel ready for some rest. I'll write some more about today when I get the chance tomorrow.