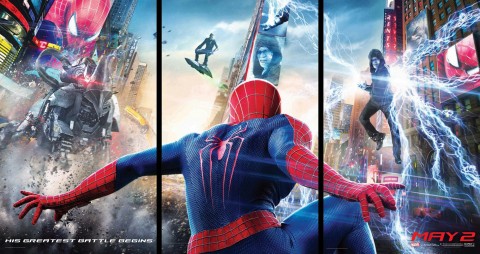 Saw Amazing Spiderman 2 yesterday afternoon at Villagio. Honestly, I'm not that impressed. The film was able to depict and show Peter Parker's witty-side as he appears on the drawn pages of Marvel's comic books. Without giving out spoilers, the main underlying premise of the film was actually good and strengthened Peter and Gwen's relationship. However, having Electro as the main villain was quite a disconnect to the characters of the film itself and was painfully interspersed with Parkers' personal issues. Thus, the film achieves some highs but can't seem to sustain it throughout. People expect continuous action or at least an ascending dash to the climax. I admit that I almost fell asleep on some parts. I would have wanted a villain who was more invested personally with Parker/Spidey. This was what was missing.
I do understand the comparisons between a Marvel Studios produced movie and this movie from Sony. Marvel Studios, its writers, now have a fair understanding of that balance between the story and that wow factor. Sadly, Sony dwelled on the story but failed on the 'Wow'. It failed to connect the antagonist to the protagonist failing to make a movie that would have been enjoyable throughout.
Should you watch it on the cinema? Spidey's swinging from building to building is something to see on the big screen. Other than that, you could always wait for the blu-ray and watch it at home. It's not a movie I'd rewatch again soon.
RATING: 7/10
Have you had that craving for salted duck eggs and been trying to look for duck eggs in Qatar? Finally found them at Lulu Hypermarket yesterday for a whopping price of 24.50 Qatari Rials! That's about 300 Pesos for 6 eggs. I better stick to dreaming about having salted eggs and tomatoes and wait for our annual vacation in the Philippines.

Our yearly July vacation to the Philippines is just months away so I decided to look into air ticket prices. When we first came to Doha years ago, our main airline was Qatar Airways but has been using Etihad for the past 3 years due to the fact that even though it meant we had to go to Abu Dhabi for a quick layover, we also saved some money in the process. If I wasn't being given airfare allowance by my company and was just given plane tickets to use Qatar Airways, then I would have been fine as I had no choice in the matter. Since I'm given airfare allowance, I decided to save a little in the process.
Qatar Airways do offer direct flights to the Philippines but don't come cheap. They have daily flights to Manila and now even have flights to Clark Airport which is nearer to my home. From Manila, we used to spend another 3-4 hours travelling to Angeles, Pampanga due to the traffic. Landing at Clark Airport means we're literally 15 minutes from home. Aside from Qatar Airways, Emirates has also opened flights to Clark from Dubai. This somehow eliminated Etihad from our sights as a closer airport would be better even if it means spending a little bit more.
I visited both their sites to compare the difference in airfare between Qatar Airways and Emirates for the same days in July and the results were quite surprising. I wasn't surprised that Qatar Airways proved to be more expensive than Emirates but was surprised at how huge the margin is!
Let's do the math! For a single adult, Qatar Airways charges 3,850QR while Emirates charges 2,810QR. The price difference is a whopping 1,040QR or roughly 12,760 Pesos.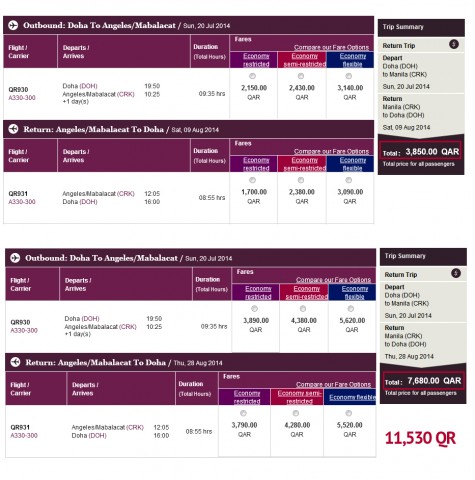 Since we would basically travel together, that's 2 adults and 1 child. For the whole return trip, I would have to pay Qatar Airways 11,530QR while the same flight dates would cost 7,970QR with Emirates. The difference is 3,560QR or 43,678Pesos (285.59 USD). Wow. Just Wow.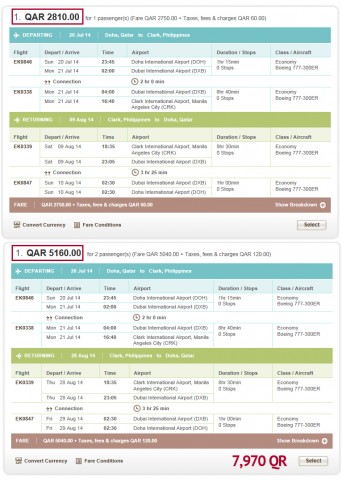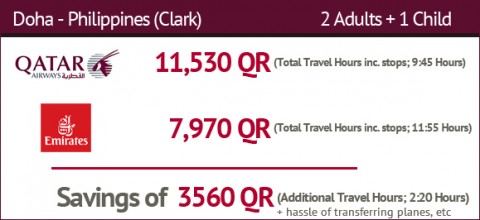 Of course, one also has to consider several aspects in the picture. For one, Qatar Airways provide a 9:35 hour direct flight to Clark, Philippines. Emirates takes you longer as you have a quick layover in Abu Dhabi and the total travel time would be 11:55 hours. That is a mere 2 hours and 20 minutes more. Also, flight times vary although departing and arriving on the same date. You leave Doha a bit earlier and arrive at Clark at 10 AM the following day with Qatar Airways while you are on a red eye flight from Doha to Abu Dhabi and you arrive 4:40 PM in the Philippines instead of morning.
Still, I do feel that one is really paying a premium price for Qatar Airways flights. If the flights are probably 300QR more expensive than competition, I wouldn't bother paying the extra. But for a difference of 3,560QR, that is something else. What gives?
In our case, the layover isn't really much of a bother as we've been used to travelling with Etihad and with the close proximity of the Clark Airport to our home, a 6 hour difference in arrival isn't much so I don't see why I would spend an extra 3560QR using Qatar Airways.
Step 1
For Nonimmigrant Visa applicants:
Determine your visa type by reading Common Nonimmigrant Visas. Each visa type explains the qualifications and application items. Choose the visa type that applies to your situation.
Be sure to also review the Visa Waiver Program. If your country participates in the Visa Waiver Program, you do not need to apply for a visa if you are traveling for business or pleasure and will only be staying in the Unites States for 90 days or less.
Step 2
The next step is to complete the DS-160 Form. Be sure to read the Guidelines for Completing the DS-160 Form carefully. All information must be correct and accurate. Once the form is submitted, you cannot make any changes. If you need assistance, please consult an immigration lawyer or translator. The call center cannot help you complete your DS-160. You will need your DS-160 number to book your appointment.
Step 3
Once you have determined the correct visa type and completed the DS-160, you must pay the visa fee. The visa fee page lists the visa types and correlating visa fee in U.S. dollars and local currency.
To pay your visa fee, read the Bank and Payment Options page. This page explains how to make your visa fee payment. You will create a profile and must keep your receipt number to book your visa appointment.
Step 4
Now you will need to log in to your profile with the same credentials you used to pay your visa fee. Once you are in the system, you will see your dashboard.
Click on Schedule Appointment on the left-hand side menu.
This will start the process for scheduling your appointment. You will need:
Your passport number.
The ref. transaction number from your bank receipt. Click here if you need help finding this number.
The ten (10) digit barcode number from your DS-160 confirmation page.
As you go through the process you will be able to select your visa type, enter personal data, add dependents, select your document delivery location, confirm visa payment, and schedule your appointment.
Step 5
Visit the U.S. Embassy on the date and time of your visa interview. Be sure to check the Schedule My Appointment page for the necessary documentation needed for your appointment.
Step 6
If your visa is approved, the visa will be available for pick up at the U.S. Embassy.
The interview lasted not more than 5 minutes. ¼ of the time, the interviewer was just noting some stuff on his computer or checking the documents he asked for. My wife didn't even have to really speak up but answered probably where she was working and how long she has been working. Here are more questions I remember which were asked:
Where are you going and why? How long will you be staying there?
Where do you work? How long have you been working with the company? How much is your salary? Do you have any bank accounts in Doha? (Submitted my Letter of Employment, Bank Statement, Company Pay slips which I printed myself)
Does your wife work (Submitted here Confirmation Letter as she didn't have time to get her Letter of Employment)
Do you have relatives in the US? Are you going to visit them?
Who will be paying for your trip? How much do you expect to spend? How much are the tickets? Where would you be planning to stay?
Where else have you travelled the past 5 years? ( actually missed 1 country on the DS-160 form but added it to my answer on the interview)