People in the Gulf state of Qatar have been abuzz last October 7 with the unveiling of Damien Hirst's monumental bronze sculptures displayed outside the Sidra Medical and Research Centre in Doha. Called "The Miraculous Journey," it consists of 14 bronze sculptures, chronicling the gestation of a fetus inside a uterus, from conception to birth, ending with a statue of a 46-foot-tall anatomically correct baby boy. The installation is intended as a celebration of life and visual informative source paving way for more contemporary art to be viewed publicly in the country. The event is a prelude to Relics, the first solo exhibition in the Middle East dedicated to the iconic British artist Damien Hirst.
Damien Hirst is widely regarded as one of the world's most successful contemporary artists and has created some of the most influential works in recent art history. Relics spans over twenty-five years of Hirst's artistic career and includes 93 works both iconic and previously unseen. Stating, "I've got an obsession with death, but I think it's like a celebration of life rather than something morbid", Hirst has remained dedicated to exploring the complex relationship between art, love, life and death. One of his most visceral work "Leviathan" (2006-2013), the largest formaldehyde work to date, consists of a 6.8-metre basking shark preserved and contained in a 10-metre vitrine, weighing 76 tonnes, from his Natural History series, underpins his enduring fascination with death and life. His work also explores the inevitable decay of our bodies despite an increasingly unquestioning faith in pharmaceuticals. Often framing scenes within boxes, tanks or vitrines, he stages startling and thought-provoking situations in which life cycles play out, life wrestles with death, and cures become confused with illnesses.
'Relics' also includes pieces from a cross-section of Hirst's most important series, including the Spot Paintings , "For the Love of God and For Heaven's Sake" (2008) – a human skull made of diamonds,medicine cabinets and butterfly works.
Curated by the internationally renowned writer, critic and curator, Francesco Bonami, 'Relics' is part of a series of cultural initiatives by Qatar Museums Authority (QMA) to promote and support local and international art production, foster appreciation and understanding of artistic practices, and create opportunities for cultural dialogue. It also aims to encourage local audiences, to take part in debates and discussions about the arts that can challenge our understanding and unveil new perspectives.
The exhibition runs from October 10, 2013 till January 22, 2014, at ALRIWAQ DOHA exhibition space
1.) What did you order? (Exact name as appears on menu with correct spelling)
1 New England Chowder 55QR
3 pcs. Pan-seared Scallops from the Fish Market Trolley 270QR
6 pcs. Fresh Oysters from the Fish Market Trolley QR25/pc
2 Alaskan King Crab legs with White Wine Sauce 320QR
1 Bouillabaisse 145QR
1 San Francisco Cioppino 120QR
1 Warmed Double Chocolate Brownie 45QR
1 Aqua Panna Water (Large) 25QR
1 Cappuccino 13QR
1 Coca Cola 14QR
1 Carrot Juice 22QR
2.) Were the prices reasonable?
The prices for some of the items in the menu were very reasonable. The New England Chowder for 55QR can be shared. Served in a sourdough bread bowl, it is creamy but doesn't dilute the taste of seafood broth as well as the clams. The chowder can be a meal in itself!
The main dishes like Bouillabaisse and the Cioppino can be shared as well though I doubt that you'd want to share just because both are delectable. Though the Bouillabaisse wasn't served in traditional means wherein the fish is served separately from its soup, it was still luscious. The fish, lobster tail, scallops, prawns and clams were done right and present their own flavor after each bite. I usually don't like fish soups because of the overpowering taste and smell of "fish" but the Bouillabaisse soup was very subtle with hints of onions and coriander.
Some of the items in the Fresh Market Trolley (fresh seafood cooked by the Chef to your liking) are considerably high priced. Three pieces of gourmet fresh scallops pan-seared to perfection costs 270QR. I loved their excellent flavor and texture. The Alaskan King Crab Legs, poached in some wine, salt and herbs and placed in a bed of leeks were full of sweetness by themselves. There was no actual need to use any of the sauce you may choose to go with it but the white wine sauce offers a contrast to the taste and brings out a non overpowering mixture of different flavor to the dish. The King crab legs were worth 320QR but relatively understandable as they're brought in from non-local sources.
For dessert, you had several options of Chocolate Cinnamon Mouse, Crisp Apple Tart "Tatin", Lemon Sorbet, Mango Raspberry Parfait and Warmed Double Chocolate Brownie, which I had. Prices range between 40-45QR which is not bad at all. I would have wanted the brownie to be more Chocolaty in taste but the sugared strawberries in a basket made of very thin peanut brittle made up for it.
 3.) Describe the ambiance.
The area itself is small yet welcoming. Quite unpretentious and décor is simplistic. It's a place to have a simple yet elegant dinner with a partner or friends. The blue lighting accentuates the theme of Pier 12 and contributes to the mood of the diners.
4.) Describe the quality of the food.
The Pan-Seared Scallops, Fresh Oysters and Alaskan king crab legs from the Fresh Market Trolley were exceptional. (see no. 2)
5.) Describe the quality of the service.
Food came warm and as I was with my wife, our dishes arrived together so there was no waiting for the other to start. The wait staffs were very proficient and can recommend items when asked. They were very attentive to the service given but aren't too pushy.
However, I only saw three wait staffs and foresee some issues when the place gets full.
6.) Would you go back? Why/why not?
Would definitely go back and can recommend the place to friends who would like to have seafood and those who usually don't have seafood. I'm sure they'll be able to appreciate seafood as not just being "fishy" once they taste Pier 12's dishes.
7.) Favourite thing about the restaurant
The New England Chowder and Alaskan king crab legs. I don't have to go to L'wzaar in Katara to enjoy fresh seafood.
8.) Least favourite thing about the restaurant
The only real gripe I have about the restaurant is the tables are close to each other that may hamper some intimacy when with your partner especially when the place is full.
9.) Was there a special touch or flair to the experience?
Being able to ask the Chef to cook items from the The Fish Market Trolley to your liking.
10.) Could the overall experience be improved? If so, how?
Aside from the issues with the tables being close and staff may be lacking when place is full, I could say that Pier 12 is truly a hidden gem in the city.
As I didn't have much time to plan this trip way ahead and with the Eid break underway, it was difficult to book rooms for our stay. I usually check Trip Advisor for good hotels to stay in and most of the rooms that I was looking at 2 weeks before our trip were already full as other travelers had anticipated their trips earlier than we did. There are several apartments for rent too but again, most of the good ones were filled or require at least a weeks' stay. I don't want to spend too much on a hotel as we're the type who uses the hotel for resting and sleeping as we're out most of the day. Unless you're in Bangkok where a Pullman would cost less than half of what you're paying in Dubai. All what we needed was a clean, comfortable room. In any case, I found another Novotel-owned hotel, IBIS HOTEL in Deira. The Ibis at The Mall of Emirates may have been better but again, rooms were all reserved.
The room was actually better than what I expected. It was spacious and the bed was big enough to accommodate the 3 of us. I guess experiencing the tiny room we stayed at in Tokyo made anything bigger than that. Still, for the amount that I paid and comparing it to the other hotel prices in Dubai, this was a steal.
It definitely was not perfect. You have to bring your own toiletries, i.e. toothbrush, paste, fave shampoo and body soap, as the room only provides you with a hair/body gel and a soap gel. The Shower area doesn't have a full door which will surely make anything outside wet. The walls of the room are thin as well as the door so it's not surprising to hear people at the hallways entering/closing their rooms. Luckily for us, by the time we get back to the hotel at night, we're already too tired to really notice or for it to disturb our sleep. Light sleepers beware. Internet is provided at the Lobby but you will have to price a premium for a connection in your room.
With all the negative stuff laid out, I would still recommend this hotel for the price, cleanliness and location. It's a No-frills hotel and that's what you should expect from it considering what you pay for. Looking at some Trip Advisor reviews on the hotel, I can't help but laugh at people who would expect a 4 or 5 star treatment from an Ibis. You carry your bags to your room as there would be no one to carry it for you. You don't get any gym and you may use the next door pool of their sister hotel for a 30AED day use. However, staying at this hotel also gives you easy access to the Deira City Center Mall across it. You're 3 minutes walk away from the nearest Metro Station. Taxis are easy to get. I'm giving it a 4 ½ star rating out of 5 based on the type of hotel and accommodation I should expect from such.
I've been in the Middle East for 12 years and have been to Saudi, Bahrain and currently in Qatar. To think that Dubai is only a stone throw away from Qatar, it is surprising to most of our friends that we haven't made a short trip to Dubai after all these years. In fact, if a bit adventurous, you can drive your car from Qatar all the way to Abu Dhabi and Dubai. I'm not the type who'd drive more than 8 hours. We've been planning, well, talking about going to Dubai and held off for so long so this time, I pulled the trigger and booked ourselves a flight to Dubai on the start of the Eid break, October 26, 2012.
Technically, we flew to Abu Dhabi then took an hour trip to Dubai as I used my accumulated Etihad Airmiles for the trip. I redeemed business class tickets for Mavis and Xiane as there are limited business class (J) seats available for airmiles redemption. I settled for the Economy (Y) but wasn't too bothered as it was a short 45 minute trip. The reason why I actually booked J class seats for Mavis and Xiane is that Etihad provides their business class passengers a dedicated chauffeur to drive them from Abu Dhabi to Dubai instead of using the free bus provided. While one has to wait for the bus schedule to leave, the personal chauffeur leaves as soon as you've arrived. I was to hitch a ride with Mavis and Xiane since I was flying Y. So with our bags, tickets, and booked chauffeur, we were at the Doha Airport Friday morning.
Aside from being upgraded to Business Class, the flight was short and uneventful. As for our Visas, we were able to easily get On-arrival visas in Abu Dhabi as I was a GCC (Gulf Cooperation Council) resident (which includes Bahrain, Kuwait, Oman, Qatar, Saudi Arabia and UAE) plus my work position (i.e. Systems Engineer) belongs to a list that entitled me to get a visa at the airport. After passing Immigrations and claiming our bags, we were whisked off to Dubai by our BMW-7 Sedan.
The one hour car trip to Dubai from Abu Dhabi gave us time to sleep since we were already up at 4:30. Nearing Dubai, one can see how much of a progressive city it is in comparison to Al Khobar in Saudi, Bahrain or even Qatar. It is littered with high-rise, residential apartments, and commercial buildings which provide office spaces for international companies. The Qatar business area in West Bay seems like a clump of buildings in comparison to this. You get to see the long Dubai Metro and its Japanese-made trains gliding along Skeikh Zayed Road which makes you think how much planning and money they spent building the system and each and every station that you pass every minute or so. Then you get to see Burj Khalifa miles away as it towers over all other buildings. Who wouldn't get awed by the sheer height of the 828 metres (2,716.5 feet) and more than 160 stories World's Tallest Building? You get to realize that Dubai has indeed made itself one of the top destinations in the world by adapting and making something out of their tiny city.
Though Qatar is touted as the next big thing in the Middle East, it is going to take at least 10 years before it reaches the commercial and cultural maturity of Dubai.
Aramede – All Day Dining Restaurant (180 seats) A modern market place, light organic colors and materials centered around a 6 story light flooded atrium with panoramic elevators. Aramede is the creation of a dining theatre that embodies the traditional dishes from both the Middle East and Continental Europe with modern reinterpretation Guests will be taken on a sensory visual journey with live cooking stations and international comfort options that ensure each visit is something new and different.
Last night, we were able to visit Crowne Plaza – The Business Park Doha which has just started operations a month ago. We were there to see what their restaurant "Aramede" has to offer. It wasn't that difficult to find the location in Matar Road as by night time, the whole area of Crowne Plaza is engulfed in blue. It is very striking indeed but pleasant to the eyes.
Once you enter the main lobby, "Aramede" would actually be the first to greet your eyes. The entrance is quite unassuming and I had expected a fancier façade  However, once you start walking towards the inner room, you slowly realize that the area is big and you get treated to an amazing centrepiece where the chefs grill and food is displayed around this center area. The music being played was comforting, not intruding.
The dinner buffet in "Aramede" starts at QR170 per person and that excludes drinks. They do serve alcohol and spirits but we really don't drink so we didn't order any aside from your usual pop soda. Children are treated to a 50% discount on the food.
Now let's talk about food itself. We went around the center area to survey the food, taking note of what we think we'd like so we could come back for them later. The area is divided into sections for Salads, Appetizers, Pasta, Breads and cheeses, made-to-order Pizza, main courses, grilling station and desserts.
Mavis and I started at the Grilling station, ordering some fresh prawns and Lamb Chops. While waiting for the grilled food, we tried their Pumpkin soup, some Maki and some of their various salads and appetizers. Xianelle found their made-to-order Pizza and ordered herself a basic mushroom and olive pizza. She also took some steamed vegetables and a serving of their Turkey, glazed in brown gravy before sitting back down.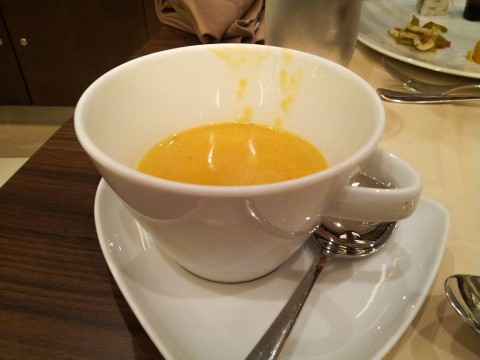 The Pumkin soup was lovely. It had the right amount of creaminess that didn't distract you from the flavor of the pumpkin itself. The only thing about it was that it was a bit gritty and the soup being smoother would have made it perfect. The Maki were good but would have wanted more variations.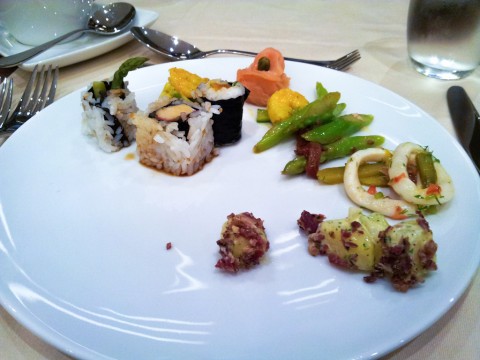 By the time we finished with the Makis, the grilled Prawns and Lamb Chops arrived. The chops were sooo good and cooked to a perfect medium. They were tender and probably the best lamb chops I've had so far. I immediately had two! As the Prawns were fresh, they tasted exquisite! I didn't see any lemon butter dip so I got myself some butter which I let melt on the prawn and asked for some lemons which I drizzled on the prawns. It was like eating a steamed cob of corn with the saltiness of the sea. The meat of the prawn was wonderfully succulent and so delicious that I had 4. I think Mavis had 3 of them.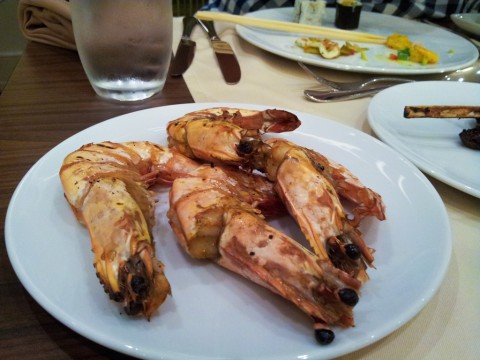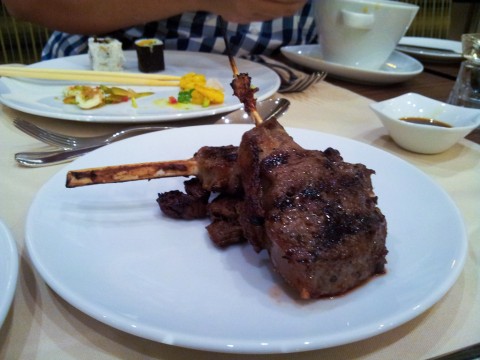 We did try there other grilled beef skewers as well and like the Arabic spiced beef better than the Oyster sauce marinated one. But that is not to say that the Oyster sauce marinated beef wasn't good, it was just that flavor of the beef was trimmed down because of the marinade. However, the saltiness that touches your tongue upon eating these beef skewers brought me back to eating in a Brazilian Churrascaria. The meat was very tender and every bite brings out the intoxicating flavors of the meat which any good meat enthusiast should know. This got me excited about the opening of Rodizio, Crowne Plaza's Brazilian Churrascaria, in a couple of weeks so I can compare it with the other Churrascaria in Doha, Ipanema at West End Doha. If the beef skewers served last night were a taste of what is to come, we'd have a battle of Churrascarias in Doha!
Still wanting to try out the other main courses, Mavis and I got ourselves a sampling of the Fish Curry, the Turkey in gravy, Stir-Fried Shrimps, and Beef Meatballs. The meatballs were good. Nothing too fancy about them but still good. The Turkey was great as the meat was not dry and the gravy wasn't overpowering the flavor of the meat itself. The Shrimp dish had more of an Asia-stir fry, mildly Mediterranean taste. The shrimps were tender and not overcooked. Again, the sauce it had was complementary to the taste of the shrimps and doesn't hide their savoury flavor. The most surprising was the Fish Curry. The curry was sweet but wasn't close to other Indian-spiced curries or Japanese-inspired curries I've had before. The curry sauce itself was to die for. What made it even better was that the fish wasn't enveloped with the curry taste and was probably only added after the curry was cooked and ready so you get that clear taste and flakiness of fresh fish, enhanced by the balanced sweetness and spiciness of the curry. It would be perfect partner to some Nan bread or white rice.
Xiane is a picky eater and stays loyal to home-made meals we cook but she finished more than half of the pizza that she ordered along with the vegetables and turkey she got. By the way, the pizza filled a whole plate so finishing half of it is more than enough for her.
However, she indulged herself with the desserts. She had a plateful of various pies, cakes and her favorite was the Chocolate Mousse, which she had 4! We do agree as the mousse was yummy. I enjoyed the Mango and Mousse Cake as well while Mavis had praises for the Chocolate Swiss Roll.
We enjoyed the food at Aramede – Crowne Plaza Doha – The Business Park and would definitely go back there. Service was impeccable and the Manager and Assistant Manager were visible and helpful. Since it's new in town, the place wasn't filled when we arrived at about 7 PM but more people came past 8. Aramede caters to several food interests you might have and as for us, it didn't disappoint in any way.
*Note - Sorry for the quality of the photos as I wasn't able to
bring "THE" camera and had to make do with Mavis' Galaxy Note.
Probably when we come back, we'd have better photos for you.